Venue
Venue
Suzhou International Expo Center

Add: 688 E. Suzhou Avenue, Suzhou industrial Park, Suzhou, Jiangsu Province, China
Tel: +86 512 6289 9600
Fax: +86 512 6289 9779
Website : www.suzhouexpo.com
Suzhou International Expo Center covers an area of 188,600 square meters, with a total design construction area of 255,000 square meters. It has world-class supporting facilities, complete functions, and reasonable layout. It can undertake large-scale international and domestic exhibitions, conferences and events, and can provide the world's largest uninterrupted exhibition space.
Suzhou International Expo Center has 8 indoor exhibition halls, with an exhibition area of 70,000 square meters, an outdoor plaza area of 30,000 square meters, an exhibition hall height of 12 meters, the first floor exhibition hall bearing 5 tons/square meter, and the second floor exhibition hall bearing 1.5 tons/square meter. Water, electricity, gas, telephone, network trench connection. The fire protection, air conditioning, security, broadcasting, media information release system is fully configured, meeting international standards.
The southern part of Suzhou International Expo Center is equipped with conference, catering and commercial functions. It is equipped with a 2000-person multi-function hall, a 550-person lecture hall and high-end conference rooms of various sizes. It is equipped with a multi-channel simultaneous translation system, which can undertake international and domestic Class large and medium-sized meetings and banquets.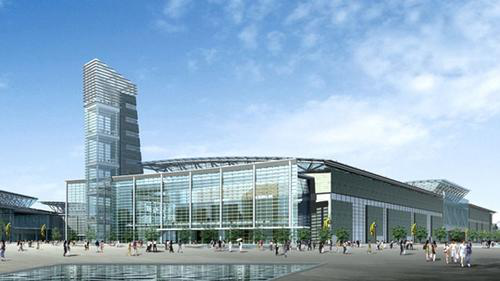 Transportation
By Train: From the railway station, take express line 2 and get off at Kewen Center Station
By Plane: From Shanghai Hongqiao Airport/Shanghai Pudong International Airport, take the airport bus in the direction of Suzhou and get off at the Park Customs Building Station